Admissions
Peacehaven Community School's Admissions Officer is Marie Wootten.
Prospectus
Click here to see our Prospectus
Policies available to download
For students who will join Peacehaven Community School in Year 7 at the start of September 2022:

Admissions Policy - Main Round 2021/2022
Admissions Policy - Determination 2023-24
For any students joining Peacehaven Community School during the school year (i.e. not transferring directly from Year 6) between September 2021 and July 2022:
Admissions Policy - In Year - PDF
About the Admissions Process
All applications to Peacehaven Community School whether main round or in-year must be made via the Local Authority, East Sussex County Council. Their on-line application form can be accessed by clicking here.
Alternatively, a paper form can be requested from them. For further information about the admissions process including admissions booklets please see their website.
If you wish supporting documentation to be considered when applying for a place please email it directly to marie.wootten@swale.at
The deadline for supporting documentation to be considered by the Governors (for the main round of September 2022 admissions into Year 7) is on or before the 31st October 2021, the official closing date. Any documents received after this date will not be considered.
Waiting Lists
Peacehaven Community School is responsible for operating a waiting list for each year group where there are more applicants than places available. The waiting list is ordered, using our published oversubscription criteria. Details of these can be found in our Determination documents:
Admission Policy - Determination 2021-22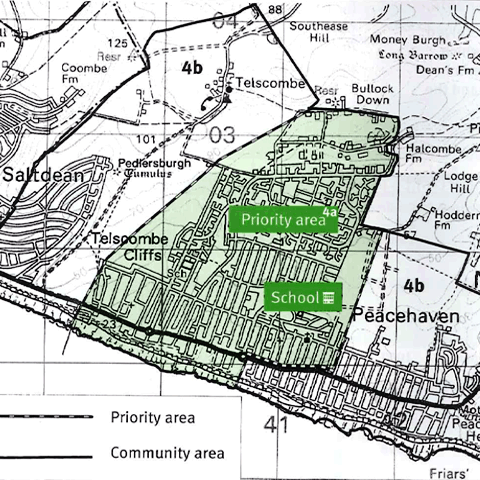 Peacehaven Community School - Priority Area Map Click here for larger version
If you have received a letter from us denying your child a place because of lack of spaces, you can apply to go onto the waiting list by contacting us directly either by email, phone or letter:
marie.wootten@swale.at
01273 575793
Marie Wootten
Peacehaven Community School
Greenwich Way
Peacehaven
East Sussex
BN10 8RB
We will then send you our waiting list application form or you can click on a link below:
If a place becomes available and you are top of the waiting list we will contact you inviting your child to take up the place.
Please note that our waiting lists are automatically cleared after Christmas and Easter and the Summer term.
You will need to contact the school in order to stay on the list.