Food Preparation
Curriculum Intent
At Peacehaven Community School, our Food and Nutrition curriculum embodies the essence of our vision, cultivating an outstanding educational experience for cognitive and social-emotional growth. We instil a passion for cooking, encouraging students to unlock their creative potential, and equipping them with essential life skills for a healthy and fulfilling life. Our carefully crafted curriculum emphasises the importance of nutrition, fostering a deep understanding of diverse ingredients and their context.
Our mission to set high expectations and support each student in achieving their full potential resonates throughout our Food and Nutrition curriculum. We believe in nurturing resilience and fostering a sense of community, enabling students to confidently explore various cooking techniques both individually and with others. Through our curriculum, students develop a keen sense of taste, texture, and aroma, empowering them to create personalised recipes and celebrate their individuality.
As active contributors to society, our students are prepared to make a positive impact on the world with their culinary skills and nutritional knowledge. Our curriculum is designed to inspire them to embrace inclusivity and diversity, broadening their horizons and fostering respect for global culinary traditions. By offering a comprehensive and innovative curriculum, we are shaping confident students that are equipped with the knowledge and skills to lead healthy, prosperous lives.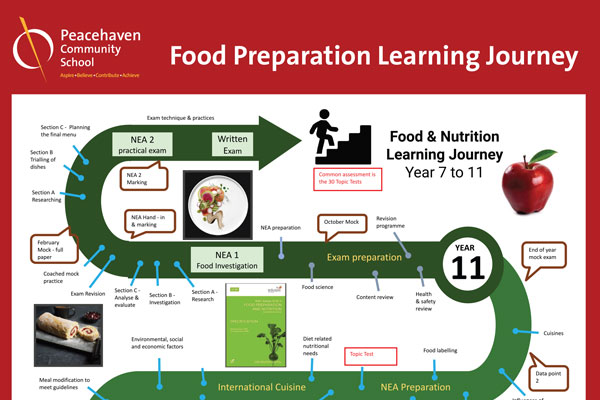 Gavin Desborough - Head of Food Preparation and Nutrition - gavin.desborough@swale.at
KS3
1 double lesson a fortnight for 40 weeks or 1 double lesson a week for 20 weeks.
understand and apply the principles of nutrition and health

cook a repertoire of predominantly savoury dishes so that they are able to feed themselves and others a healthy and varied diet

become competent in a range of cooking techniques [for example, selecting and preparing ingredients; using utensils and electrical equipment; applying heat in different ways; using awareness of taste, texture and smell to decide how to season dishes and combine ingredients; adapting and using their own recipes]

understand the source, seasonality and characteristics of a broad range of ingredients
Year 8
Health & safety recap
Types of Bacteria
Breads
Pastry
Multicultural & special diets
Afternoon Tea
Medium Term Plans
Term 3
Y8 - Medium Term Plan
Year 9
Eatwell Guide
Dietary Needs
Energy
Factors affecting Food Choice
Food Labelling
Year 10
Hygiene and Safety
Food Poisoning Bacteria
Food Preservation
Food Spoilage
Raising agents
Vitamins
Minerals
Diet Related Health Issues
Planning and modifying recipes
Sensory analysis
Food Provenance
Year 11
NEA 2
Introduction to task
Research
Questionnaire
Menu analysis
Moodboard
Own Skills
Analysis of Research
Possible Dishes
Trial Dishes
Evaluation of Trial Dishes
Final Menu
Timeplan
Ingredients and Equipment
Dish 1,2&3 and Evaluation
Homework
Homework is set in KS4 to develop understanding and support classwork including:
Revision for topic tests
Research for Non-exam assessments
Evaluation and project write-ups.
The most powerful social media... it is not the internet, it is not facebook - it is food. This connects all human beings
Alex Atala