Music
Curriculum Intent
At Peacehaven Community School, our music curriculum is a true reflection of our vision and values, fostering a learning environment that enhances cognitive and social-emotional development, as well as students' wellbeing. We recognise music as a powerful language that transcends boundaries, and our curriculum is designed to inspire students to aspire, believe, contribute, and achieve their full potential in the world of music.
In line with our values, our music curriculum provides students with a rich and diverse experience, enabling them to explore different genres, historical periods, and global traditions. By offering opportunities for students to develop their listening, coordination, communicative, and creative abilities through music appraisal, composing, and performing, we are nurturing their self-confidence, resilience, and passion for learning.
Our curriculum also embraces our community-focused vision, encouraging students to contribute by participating in concerts and various performance settings. This not only strengthens their musicianship but also fosters a sense of belonging, appreciation for the power of music to bring people together and pride in their accomplishments. As students progress through their musical journey, they develop the skills and confidence to excel in their future careers.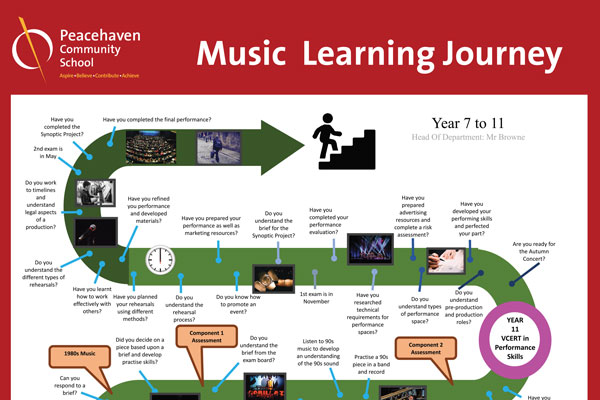 Rodney Browne - Head of Music - rodney.browne@swale.at
Year 7
Programme Music
Marches
Drumming
Folk Music
Blues
Classical Music
Medium Term Plans
Term 3
Drumming
Term 4
World Music
Year 8
The Beatles
Ballads
Classical Music
Songwriting
Games Music
Performance Skills
Medium Term Plans
Term 3
Winter Vivaldi
Term 4
Song Writing
Year 10
Studying the new BTEC Tech Award Level 1/2 in Music Practice
Year 11
Studying the VCERT Tech Award Level 1/2 in Performance Skills
KS4 Course(s) offered
GCSE students follow the EDEXCEL GCSE music curriculum https://qualifications.pearson.com/en/home.html
Assessment
Students are assessed on their performing, composing and listening abilities in KS3. At KS4, they are assessed on performing skills (60%) and have to take a written examination (40%).
Homework
Homework is set for year 10 and 11 students once a week. They will need to revise for keywords tests, complete exam-style questions and practice their instrument.
Teaching Staff
Rodney Browne - Head of Music - rodney.browne@swale.at
Thomas Himsworth - Music Teacher - thomas.himsworth@swale.at
Nicolas Wardell - Music Technician & Teaching Assistant - nicolas.wardell@swale.at
Music expresses that which cannot be said and on which it is impossible to be silent
VICTOR HUGO