Personal Development
Peacehaven Community School offers a Personal Development curriculum which is designed to equip students with the information to support them through the challenges of their life at secondary school as well as encourage them to be open-minded global citizens and fully prepared for life in modern Britain.
Today's children and young people are growing up in an increasingly complex world and living their lives seamlessly on and offline. This presents many positive and exciting opportunities, but also many challenges and risks. In this environment, children and young people need to know how to be safe and healthy, and how to manage their academic, personal and social lives in a positive way.
Our school mission statement 'Aspire, Believe, Achieve' embodies our attitude and intentions towards the importance of the development of all aspects of the Personal Development curriculum.
The Personal Development Curriculum at Peacehaven Community School covers the following areas:
Sex & Relationships Education (SRE)
Fundamental British Values (FBV) and Citizenship Education
Careers and Living in the Wider World Education

The Personal Development curriculum is delivered in a number of ways.
Each student has a mentor who works closely with each child supporting their Personal Development. Personal Development is underpinned by the ethos and values of PCS. Resilience, Reliability, Rigour, Respect, and Representation. The Pastoral Lead and Pastoral Support Manager lead the year group mentor teams.
As well as supporting them with their academic progress, the mentor will be providing them with the opportunities that will allow them to thrive and lead happy, successful, and healthy lives and support them to contribute positively to the wider community. They will meet for a timetabled lesson every Thursday and follow a bespoke Personal Development program.
They are also encouraged to attend an optional wellbeing drop-in 3 times a week.
The information provided and the nature of the delivery will allow students to make informed decisions about their well-being, relationships, and health. PD helps students develop knowledge, skills, and attributes they need to keep themselves healthy and safe whilst preparing for life and work in modern Britain.
The delivery of our Careers Education Information and Guidance programme (CEIAG) throughout PD lessons and the wider school curriculum encourages students to aspire and value lifelong learning and develop key employability and enterprise skills in accordance with the recommended Gatsby Benchmarks.
Students will not only experience quality first teaching on these subjects but also opportunities to take part in workshops with outside agencies, community projects, and theatre productions.
They will explore the complex and sometimes conflicting range of values and attitudes they encounter now and in the future.
PCS offers a healthy extracurricular program with a variety of clubs catering to all interests, including opportunities to embark upon the Duke of Edinburgh Award.
Our school values, the 5Rs, underpin everything we do at PCS and All our pupils are encouraged to take part in a wide range of activities and experiences across and beyond the curriculum, contributing fully to the life of the school and the wider community. In doing so, pupils learn to recognise their own worth, develop a sense of their own identity and the ability to take their place in the community as well as respect for, and work with, others.
Over the course of their PCS journey, students are encouraged to record their engagement in school life and the community by taking part in any of the PCS 100 pathways to success challenges. These characteristics will support the students to work together as a community, to work collaboratively, and to understand different viewpoints and ideas.
Relationships and Sex Education
At PCS we understand the importance of educating pupils about sex, relationships and their health. This will enable them to make responsible and well-informed decisions in their lives.
Relationships and Sex Education (RSE) at PCS is a school subject through which pupils develop the knowledge, skills and attributes they need to manage their lives, now and in the future. It helps children and young people to stay healthy and safe, while preparing them to make the most of life and work.
Learning from one area may be related and relevant to others. The curriculum is designed so that students are provided with high-quality, evidence and age-appropriate teaching.
Our RSE Policy can be found in the Policies' section of our website.
If there are any areas of concern about any of the aspects covered by our curriculum map, could you please contact our school office who will alert the appropriate members of staff who will then respond to your enquiry within 48 hours.
If you require any further information about our Personal Development Curriculum please contact:
Fundamental British Values
At Peacehaven Community School we recognise the importance of preparing our students for their adult lives beyond the formal examined curriculum. An important aspect of preparation for adulthood is ensuring that we promote and reinforce British Values to our students.
The examples below should be seen as an indication of our approach rather than an exhaustive list:
Democracy
We believe it is crucial that our school models the principles and practice of democracy. Students have the opportunity to have their voices heard through our School Council, frequent student voice and student surveys. We also have a PCS student representative in the East Sussex Youth Cabinet who has been democratically elected, as well as 3 Youth SEND Ambassadors. Our Year 11 School President and Vice President have been elected by students at PCS as well as year 6 students at our 4 feeder primary schools. The democratic process is employed for important decisions within the school community so that students can experience and understand how this process works. The principles of democracy are explored in a number of curriculum subjects, including History, and Personal Development - RE, and PSHE.
The Rule of Law
The importance of codes of conduct and behaviour are consistently reinforced throughout the school day, and through school assemblies. Our staff are positive role models for our students. Through our delivery of Personal Development and Citizenship, students are taught about why laws are important in a democratic society, and about the laws that govern and protect the citizens of the UK. They learn about the responsibilities that this involves and the consequences when laws are broken.
Individual Liberty
Within school, pupils are actively encouraged to make positive choices, knowing that they are in a safe and supportive environment. As a school we provide boundaries for students to make choices safely. Students are encouraged to know and understand how to exercise their rights and personal freedoms. We advise them how to exercise these safely, for example through our e-safety and Personal Development lessons as well as in their IT lessons. Students have the right to choose from a wide range of enrichment activities based on their interests. The Universal Declaration of Human Rights and The Human Rights Act are taught through the Personal Development curriculum.
Mutual Respect
Our school ethos and behaviour policy has evolved around our 5Rs. Respect, Reliability, Representation, Resilience and Rigour. All the adults in our school community model the importance of mutual respect. We have a zero tolerance approach to all forms of bullying. Students take part in discussions and assemblies about what mutual respect means and how it is evident in social interaction. Students learn how their behaviours can affect themselves and others. Posters around the school promote respect for others, and this is also emphasised through our behaviour policy. Our Personal Development curriculum teaches students how to behave responsibly towards themselves and others in preparation for adulthood. Our wider academic curriculum is underpinned by values of mutual respect across all subjects.
Tolerance of those of Different Faiths and Beliefs
We approach this by developing students' understanding of their place in a richly diverse society. We give them opportunities to experience such diversity through visitors to the school, visits to places of worship and symbolic significance, and through our wider enrichment programme which encourages them to be outward-looking and curious about the wider world. We welcome students from all faiths and cultures to learn at our school.
Learning about different faiths and beliefs in RE is supported by other areas of the curriculum, such as English, geography, history, art, drama, music, dance and history, and features in some assembly themes.
Daily acts of collective worship/ assemblies
Our assemblies uphold our 5Rs alongside the traditional values of empathy and tolerance. Assemblies respond to current issues that are of interest to, or affect, our school community. We welcome outside speakers from a range of diverse backgrounds to speak at assemblies.
Leadership Opportunities
Aspire Believe Achieve
Our mission is to develop confident, happy, ambitious students who flourish and take pride in their learning. PCS is a school where achievement is a focus for all. We encourage students to aspire and be their best. We promote self-confidence and belief, supporting students to face the challenges future life brings, alongside an awareness and understanding of the values of our society and different cultures.
Student Leadership Opportunities at PCS
Year 7

Year 8

Year 9

Year 10

Year 11

School Council
School Council
School Council
School Council
School Council
Sports Captain
Sports Captain
Sports Captain
Sports Captain
Sports Captain
Transition leader
Tour Guide
Equalities
Lead
Sports Leader
Sports Leader
Student
receptionist
Curriculum Support Leader
Peer Mentor
KS3 Student Monitor
Student
President/Vice
President
Duke of Edinburgh
The Duke of Edinburgh's Award (DofE), is the world's leading youth achievement award. Established 61 years ago and undertaken by millions of young people, employers, colleges and universities recognise DofE as one of the top programmes through which young people develop valuable personal and work related skills such as: confidence, independence, self-esteem, communication, team work and resilience.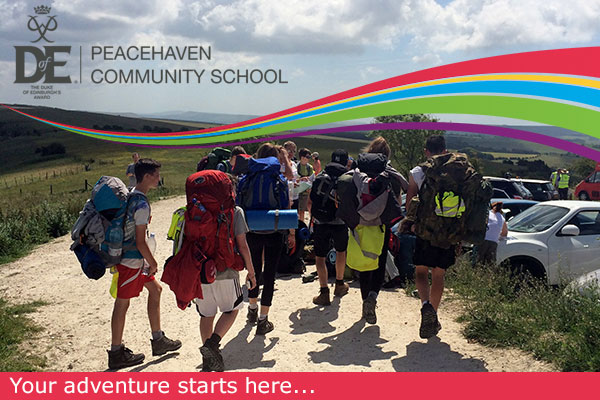 The Award develops these skills through a broad and balanced programme of activities which can be undertaken at three levels Bronze, Silver and Gold. This year we are offering all pupils in year 9 and 10 the opportunity to enrol onto the Bronze DofE Award. Activities are completed for progressively longer timescales at each level and fall into in to the following sections:-

Giving your time freely to help your community, people, environment or animals.

Taking part in an activity that requires a sustained level of physical energy to develop greater physical fitness and a healthy lifestyle.

Developing personal interests by learning a new skill or improving an existing one.

Developing a spirit of adventure and discovery by planning, training for and completing a self-sufficient journey as part of a team.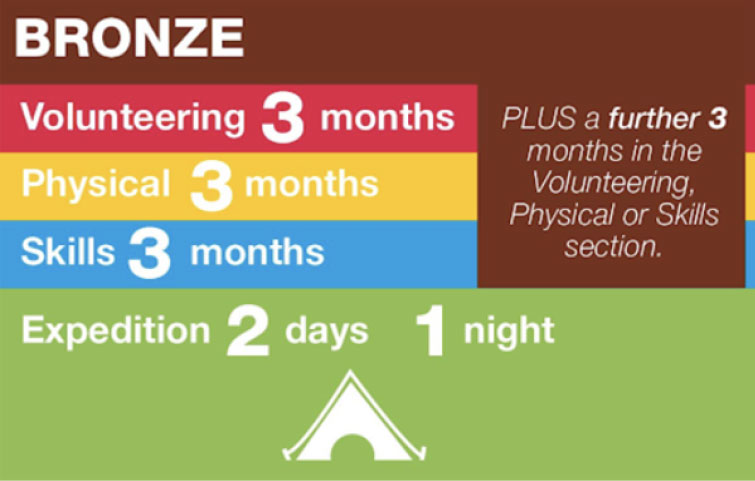 Sections can be completed simultaneously. However, the length of time spent on each section is a minimum of six months. The students will choose what they do and along the way they will develop skills, friends and talents that will stay with them for the rest of their life.
Why should students become part of the DofE adventure?
Taking part in the DofE will give them skills, confidence and a view on life that everyone is looking for, from employers to colleges and universities. Students also receive recognition for doing things that they want to do (and may even be doing already). Additionally, they will make a difference to other people's lives and the community, be fitter and healthier, make new friends and have memories that will last a lifetime. Most importantly it is fun and enjoyable.
Ms Baker is the school DofE Manager and will send out further details regarding enrolment to all students and parents before the end of term 1 term.
However, if you are interested in finding out more please log onto the DofE website https://www.dofe.org
Expeditions:
This is only a part of completing the Award but is probably the part most associated with doing DofE. It is certainly the part where participants gain a huge amount of experience and confidence and are challenged to push their limits both physically and mentally. All our expeditions will take place in various locations, usually in an area of the South Downs National Park not too far away. We are hoping to hold our expeditions in Term 6.
Bronze Expedition Outline:
Training day at PCS covering route planning, navigation, using stoves, meal planning, first aid, teamwork, kit selection and packing, the countryside code and what to do in emergencies.

A one night, one day practice expedition to further hone the skills gained on the training day

A two day, one night qualifying expedition where teams will be assessed by instructors. If you have any questions about the Award, how to start, how to finish, how to use eDofE, how to get assessor reports or what kind of kit you need, it should be in the list below. If you cannot find this, please feel free to contact Miss Baker claire.baker@swale.at.
Bronze Award enrolment form 2021/2022
Activity Log - Very useful as evidence for keeping track of what you do
DofE timescales - a reminder of how long each level should take to complete
Getting started - Advice on getting your Award started in the right way
Section Activities - Advice to help get your sections completed properly
Section Ideas - Not sure what to do for a section, here are some ideas
How parents can help to ensure successful Award completion
E-mail template for contacting your assessor at the end of a section
Bronze Programme Planner - Plan your sections before submitting them on eDofE
Short guide to getting on eDofE
Special Guidance if choosing to volunteer at home or for a family member
DofE Recruitment Flyer - General Information about the Award
The above documents can all be found HERE
Upload an Assessor Report here
Also here add the template email for assessors attached and the flyer how to complete your DofE programme.
Videos:
How to use the DofE App
DofE Welcome Film
PCS 100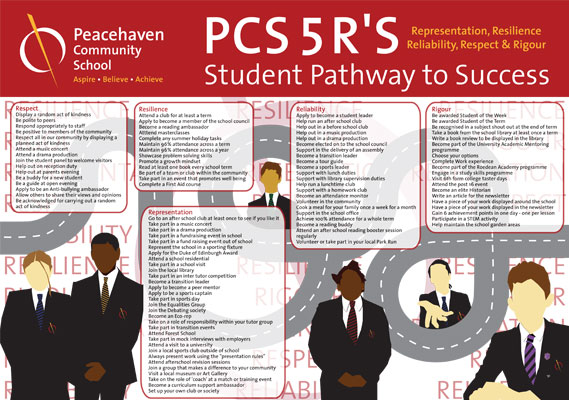 Student Pathway Poster