Science
Lisa Murray - Head of Science - lisa.murray@swale.at
Nothing in life is to be feared, it is only to be understood. Now is the time to understand more, so that we may fear less.
MARIE CURIE
Subject Overview
We teach science at PCS because we are passionate about our subject and want to achieve the following for our students;
Equip learners with a broad and depthful knowledge of science as well as an understanding of scientific methodology, so that they can understand the world around them and make informed decisions

Encourage learners to be inquisitive and thoughtful, to develop their analytical skills so that they can problem-solve and think critically in order to contribute to society

To promote science as a career pathway, a lifelong vocation or an avocation, particularly for our disadvantaged learners and those under-represented in science
We teach a broad science curriculum that encompasses all the sciences; Biology, Chemistry, Physics and Earth Science, which are taught independently but interleaved together throughout the year.
Our curriculum model is about students developing models around core concepts in science, such as energy, and then building upon these models with new knowledge as they move through KS3 and into KS4. Concepts are revisited regularly, misconceptions challenged and links are made between them (for example between energy and particles).
Science is taught by passionate teachers who love their subject. We promote students' intrinsic curiosity for learning through awe and wonder. Our science curriculum is ambitious and differentiated, challenging all learners to reach their full potential. As well as building their scientific knowledge, all of our modules include opportunities for learners to develop their practical skills, analyse and interpret data, and to develop their scientific communication skills.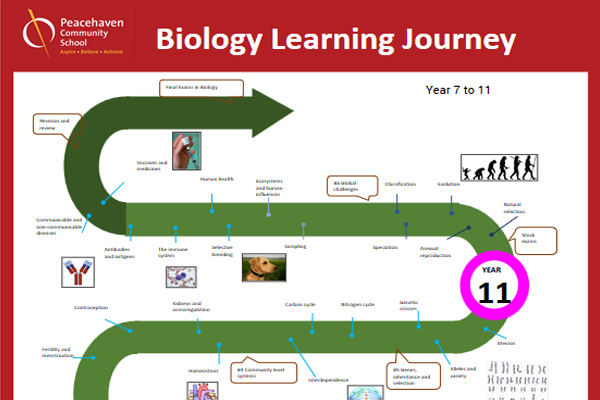 Teaching and Learning
KS3
At KS3 in Science out students all follow the same pathway that is centred around the following core concepts of science; living organisms, ecosystems, matter, chemical reactions, forces and motion, energy, earth science & working scientifically.
Students have four lessons a week and regularly revisit each concept where they can recap their knowledge, address misconceptions and build upon their previous knowledge.
Year 7
In terms 1&2 students will be looking at;
The science lab & practical work

Cells and microscopes

Particles and states of matter

An introduction to forces.
In terms 3&4 students will be looking at;
The structure and function of body systems

Elements, atoms and compounds

Sound

Chemical Reactions
In terms 5&6 students will be looking at;
Reproduction

Light

Space

Acids & Alkalis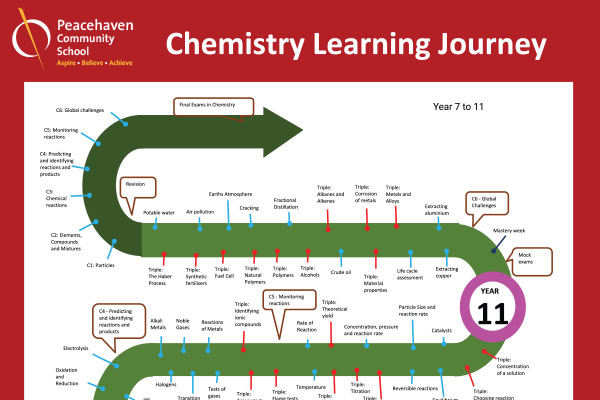 Year 8
In terms 1&2 students will be looking at;
Working scientifically (science practical skills)

Anatomy & Gas Exchange

Sound waves

Separation Techniques
In terms 3&4 students will be looking at;
Puberty and Menstruation

Light

Nutrition & Digestion

The Periodic Table
In terms 5&6 students will be looking at;
Photosynthesis

An overview of what they have learnt over the year

Exploring outdoor investigative skills
Year 9
In terms 1&2 students will be looking at;
Atoms

Forces & Motions

Electricity & Magnetism

Earth Sciences
In terms 3&4 students will ....
Genetics

Atoms

An introduction to biology, chemistry and physics at GCSE
In terms 5&6 students will …
B1. Cell Level Systems (GCSE)

C1. Particles (GCSE)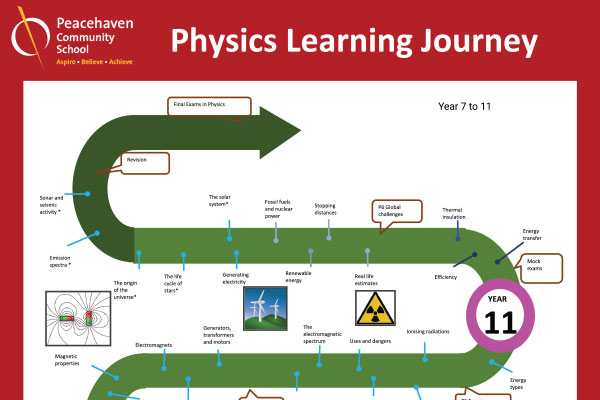 Year 10
In terms 1&2 students will complete the following modules;
C2 Elements, Compounds & Mixtures

P1 Matter

P2 Forces

B2 Scaling Up
In terms 3&4 students will complete the following modules;
P3 Electricity and Magnetism

C3 Chemical Reactions

B3 Organism Level Systems
In terms 5&6 students will complete the following modules;
C4 Predicting & Identifying Reactions & Products

B4 Community Level Systems

P4 Waves and Radioactivity
Year 11
In terms 1&2 students will complete the following modules;
B5 Genes, Inheritance and Selection

C5 Reactions & Products

C6 Global Challenges

P5 Energy
In terms 3&4 students will complete the following modules;
P6 Global Challenges - 6 lessons

B6 Global challenges - 13 lessons
In term 5 students will be;
Reviewing and revising content from Year 10

Looking at recent assessments and reviewing any gaps in their knowledge