Support
Click here for instructions on accessing IT at PCS, including the student dashboard, email & google classroom
---
The Joff Youth Centre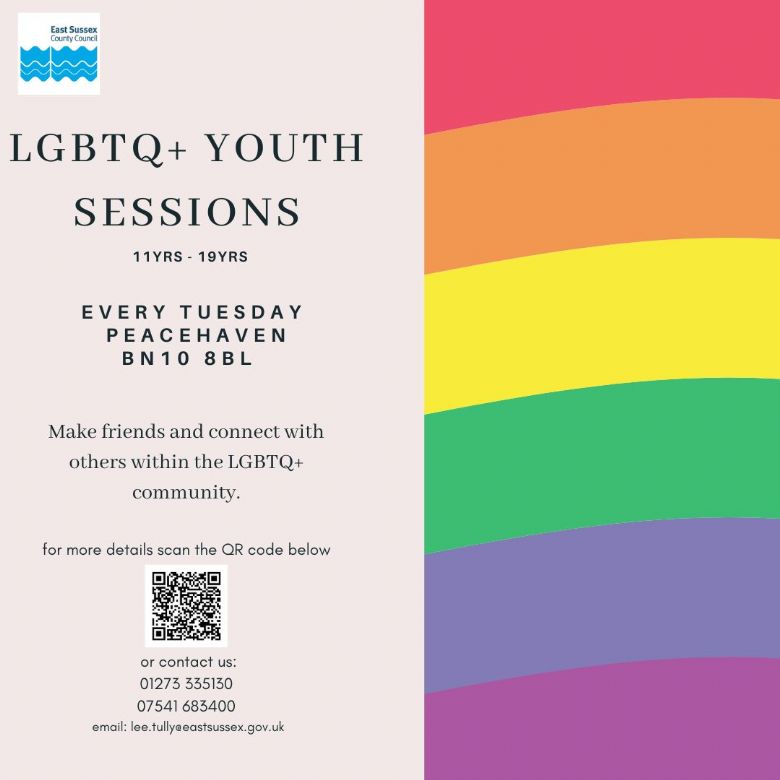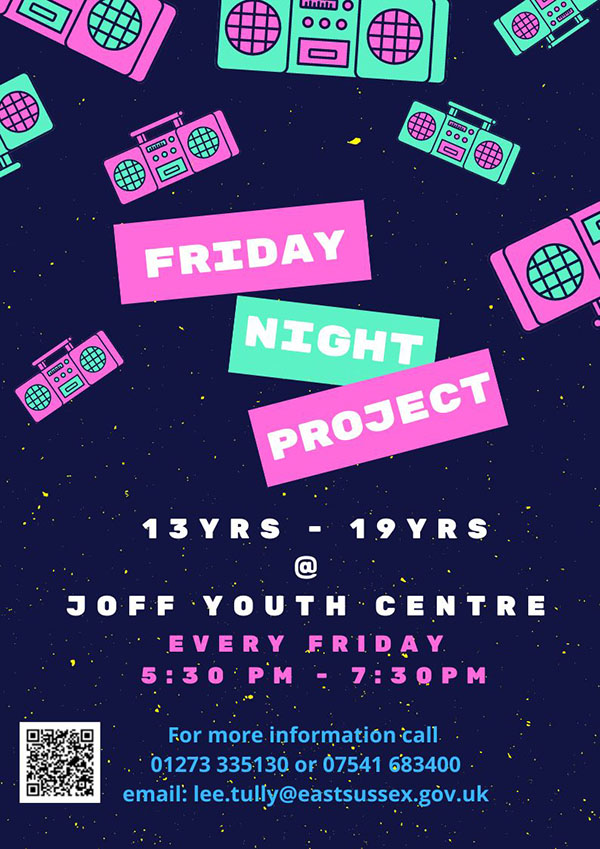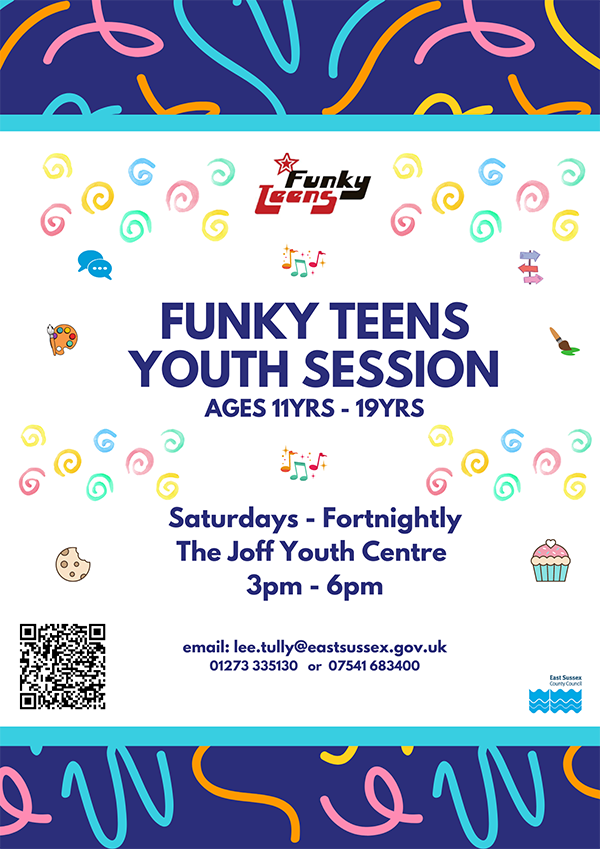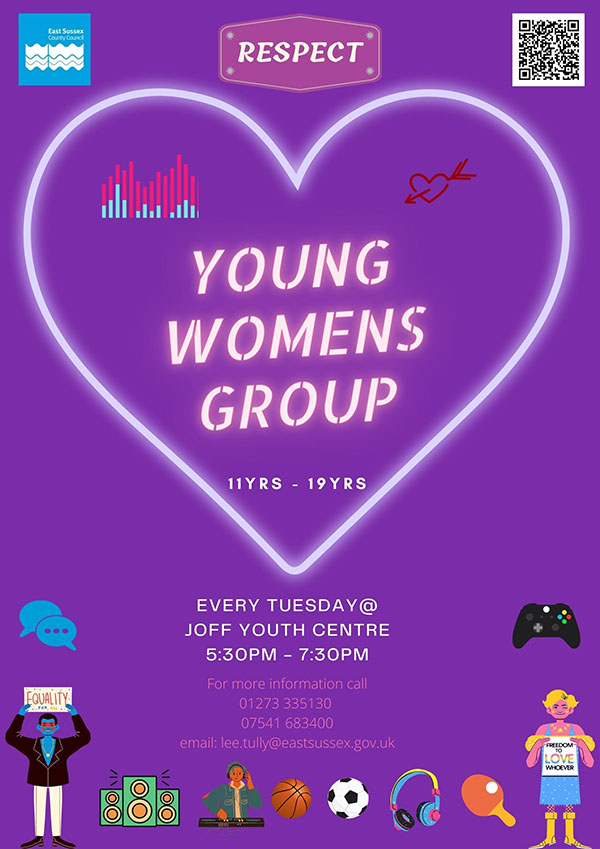 Please click on an image above for a larger version & to be able to scan the QR codes
VRAC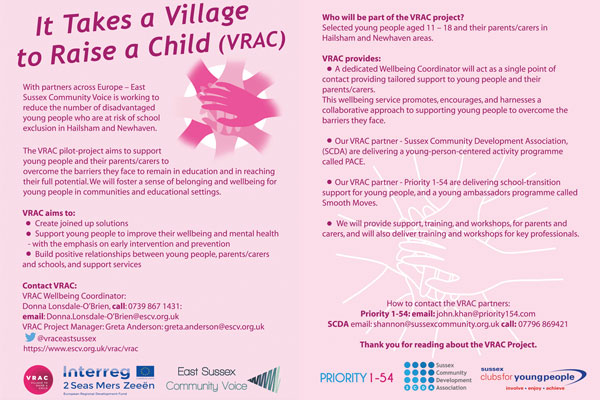 https://www.escv.org.uk/vrac/vrac
---
---
Understanding Anxiety
Parent and Carer Psycho educational workshop – Understanding Anxiety: What is it and how can you support your child?
On Monday 31st January 2022. 1:30- 3pm. Open to all parents and carers. - please email lucy.finley@swale.at to confirm your attendance.
---
Online Webinars for Parents and Carers
Many parents and carers have told us that they would like to know more about their children's mental health and how they can support them at home. We have now developed a range of short mental health themed webinars for parents and carers to help increase knowledge of children's mental health and build strategies to manage mental health difficulties at home.
Please note that all webinars will be via Microsoft Teams. Parents and carers will need access to this on either a computer or mobile device. These webinars are suitable for anyone caring for a child aged 7 to 17.
| Webinar Name | Date | Link for Booking | Poster |
| --- | --- | --- | --- |
| Supporting Children and Young People with Phobias | Tuesday 5th July 2022, 1-2pm | | |
| Supporting Children and Young People with Low Mood | Thursday 5th May 2022, 10-11am | | |
| Supporting Children and Young People with Anxiety | Tuesday 22nd March 2022, 1-2:30pm | | |
| Supporting Children and Young People with Anxiety | Tuesday 7th June 2022, 1-2:30pm | | |
| Understanding Children and Young Peoples Mental Health | Tuesday 15th February 2022, 4-5pm | | |
| Supporting Children and Young People with Sleep and Healthy Eating | Monday 28th March 2022, 4-5pm | | |
---
Me & My Mind (Mental Health Support Teams)


Now have an annual schedule of short webinars on mental health and emotional wellbeing themes for Parents and Carers. All the webinars aim to:
• Increase awareness and understanding of the MHSTs
• Increase knowledge of the topic being presented (Low Mood, Anxiety, Phobias, Recognising Mental Health Difficulties)
• Equip parents with some strategies and tools to support their children with their mental health needs
• Be able to recognise when the topic becomes a problem and what to do
Please click here to download a word document that has all the dates and booking details.
If you have any questions, please do contact us:
01273 335585
Czone: school safeguarding page
---
Brighton & Hove Parenting Team Service
Are you struggling to manage your child's behaviour?
Are you worried about your child?
Would you find it beneficial to meet with other parents who are feeling the same way and to look at some ideas which may help your family make changes?
We offer a wide range of courses and workshops (during the day and evening) with the aim of supporting you to make positive changes within your family in a safe and friendly environment.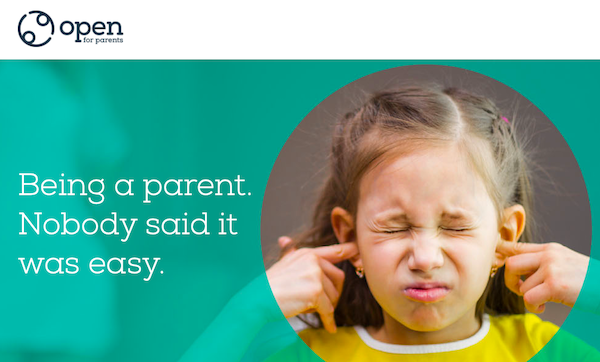 This service provides help and support directly to parents, free of charge.
They provide a variety of online parenting courses, each with specific tips to help them deal with the most common behaviour problems.
This guide contains all the course information, dates and how to book. You will see a QR code for each course, just using a QR code reader or camera on a phone will take you directly to the booking forms.
The service is all run online, so parents and carers can join in from the comfort of their own home. All they need is a laptop, tablet or phone and internet access.
Parent Guide | East Sussex | What's On – Jan, Feb, March 2022
Parent Guide | East Sussex | What's On – Oct, Nov, Dec 2021
---
Young People in East Sussex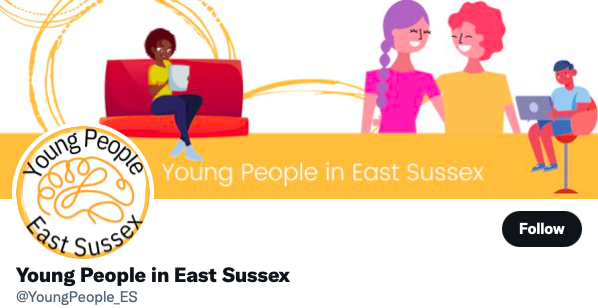 The Mental Health Support Team have created the following social media platforms to share self-help resources and information on mental health and wellbeing:
Young People in East Sussex – on Twitter, @YoungPeople_ES
Young People in East Sussex – on Facebook, @YoungPeople.ESussex
Young People in East Sussex - on Instagram, @youngpeople_esussex
---
HSB protocol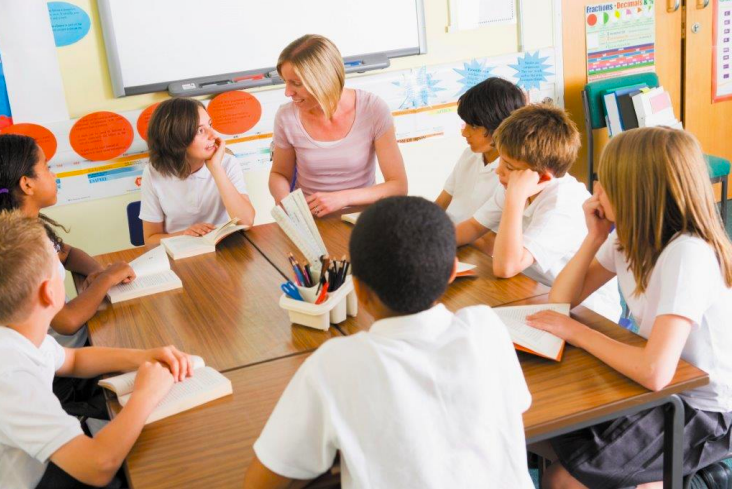 ---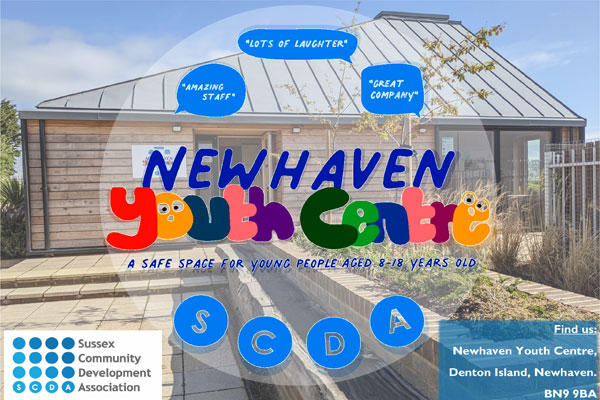 ---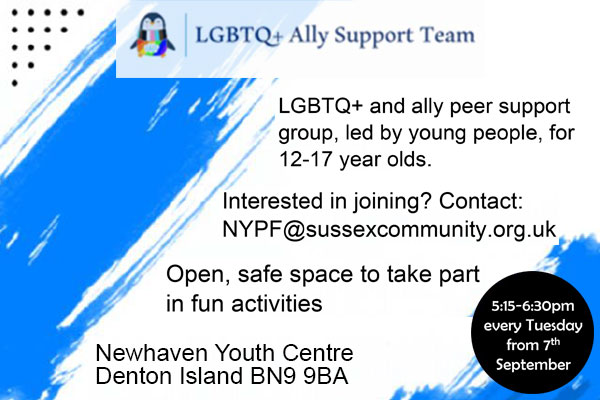 ---
Turn On The Subtitles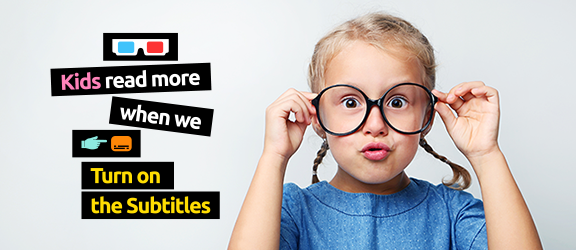 Did you know that by turning on the subtitles at home on your TV's children's content, you can double the chance of your child leaving school a proficient reader?
If you haven't already done so, please do spend a couple of moments switching them on for your child's profiles and help them continue their reading journey (unknowingly!) over the school holidays.
Sandi Toksvig recently recorded us this little video to ask for your help:
You can watch it here: https://youtu.be/M5EWSCTjLkI
---
HAF activities
Click here for the letter from Marcus Rashford regarding the Holiday Activities and Food programme (HAF).
If you have any queries regarding the HAF programme, please direct them to: HAF@eastsussex.gov.uk
---
e-wellbeing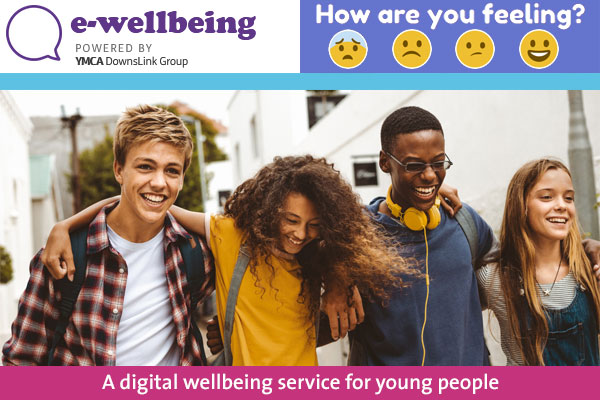 ---
Holding Space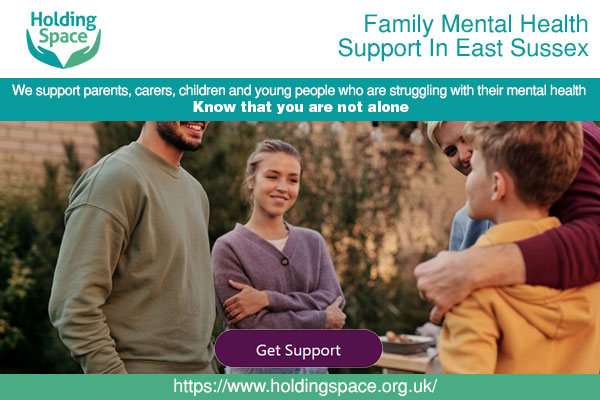 ---
Winston's Wish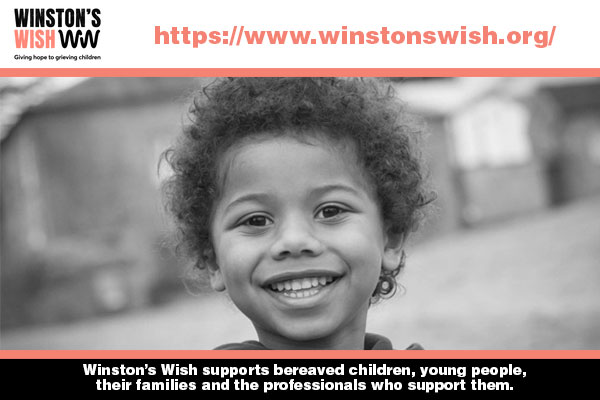 ---
East Sussex School Health and Children's Services
East Sussex School Health Service (ESSH) and East Sussex Children's Integrated Therapies and Equipment Services (ESCITES) will continue to provide services throughout the national response to COVID-19 second wave. We understand this will be an anxious time and we would like to remind families and stakeholders how they can contact us:
School Health One Point (SHOP) The front door of our service is the School Health One Point (SHOP). This is a single point of access, referral and advice open from 8.30-5 pm Monday to Friday. Stakeholders and parents/carers can use this line to discuss current or potential referrals, arrange school training or other general advice.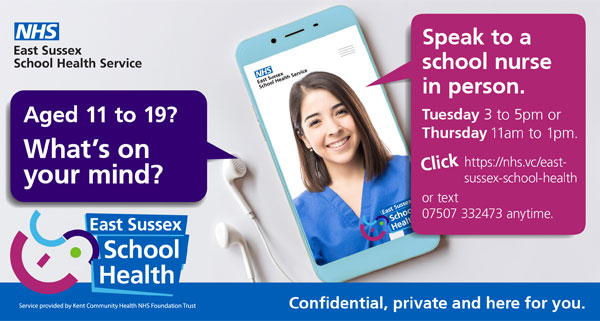 Text Your School Nurse
Aged 11-19? Need emotional support in these unsettling times? Our school nurses are still here to help. Text 07507 332473 to speak to a school nurse who can contact you by text, phone or video
Parents: During these unsettling times, as a parent/carer of child aged between 5-19, you may be worried about your child's health and wellbeing and be unsure about how to get the help you need. Our school nurses are still here to help - you can text them for confidential advice and support on a wide range of issues. Parent/carers of children aged 5-19 can send a text to: 07507 332473
Virtual Drop Ins
Children and young people aged 12 to 19 can use a confidential virtual drop-in session with a school nurse every Tuesday from 3 to 5pm or every Thursday from 11am to 1pm.
East Sussex Children's Integrated Therapies' Services
Therapy One Point
This is a single contact point for speech and language therapy, physiotherapy, occupational therapy (including adaptations), specialist equipment and general enquiries, both for specific advice for children on our caseload and advice or support for those not currently accessing the service. Call 0300 123 2650 or use the centralised email for all enquires: kentchft.citesonepoint@nhs.net
Consultation and provision of Therapy
As a result of COVID-19, alternative methods of maintaining patient contact have been put in place. Virtual consultations can take the form of one-to-one telephone calls, multi-participant teleconferences, video consultations, group video conferences and interactive webinar sessions. Virtual consultations will be arranged with SENCOs or the child's class teacher/INA. The child and INA/ITA will need access to a computer to take part in the virtual session. Resources will be before the session and should be brought to the session for the child.
We know not all children will be able to remain in front of a screen and take part in assessment and therapy activities in this way. In which case we will still work with the staff member to demonstrate activities and discuss the child's programme.
Some of our services cannot be carried out virtually and will continue to be done face-to-face, particularly for children with complex needs. During any direct contact with pupils, appropriate infection control measures will be followed in accordance with the Public Health England guidance. Currently this includes wearing gloves, a disposable apron and a mask.
SCDA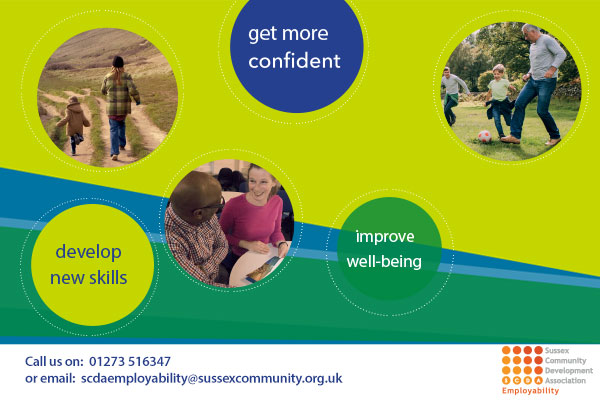 Are you unemployed and need support to move forward in life? Our team helps local people access sustained work, learning and wellbeing opportunities throughout East Sussex.
Call us on 01273 516347 or email: SCDAEmployability@sussexcommunity.org.uk
---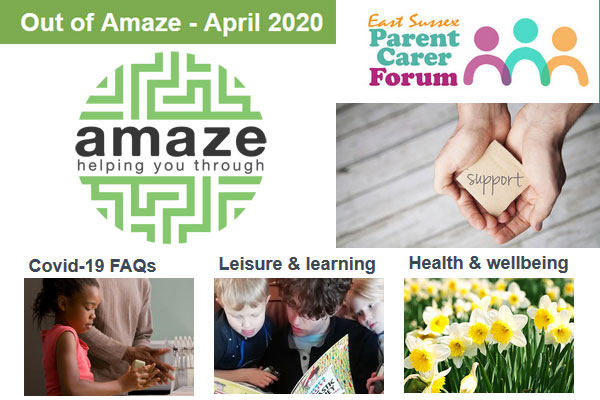 ---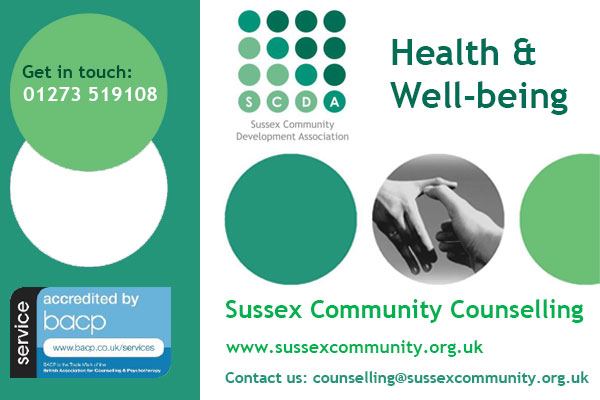 We provide an accessible and confidential low -cost counselling service within the local community. Our aim is to support adults (16+) who are feeling low, worried or distressed for many reasons including life events, physical difficulties, anxiety and stress, loneliness and isolation.
Please click here to download the self-referral form
---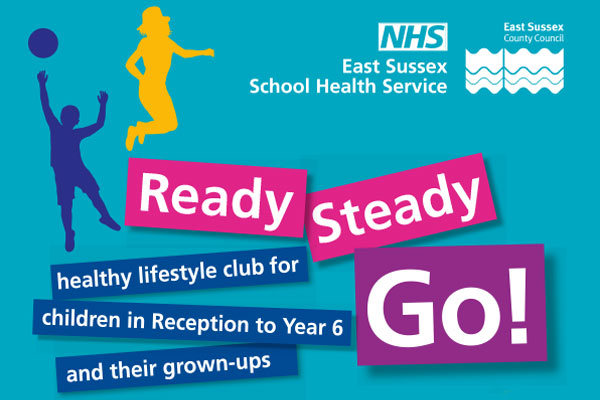 Ready, Steady, Go is a fun 8 week programme designed to work with families to help their children achieve and maintain a healthy weight with a focus on making small, achievable lifestyle changes around healthy eating and activity.
We will also cover other important lifestyle topics including sleep and screen time.
Families can:
• take part in fun sessions covering healthy eating, physical activity and sleep
• lots of ideas, games and challenges
• includes cookery session
• suitable for all the family
• supported by trained staff
• 1 hour session after school for 8 weeks
Families can sign up for the next groups starting in January via the following link:
Ready, Steady, Go in East Sussex - Kent Community Health NHS Foundation Trust or can contact the service on 0300 123 4062 to speak to a member of the Ready, Steady, Go team for more information.
---
Calm Harm app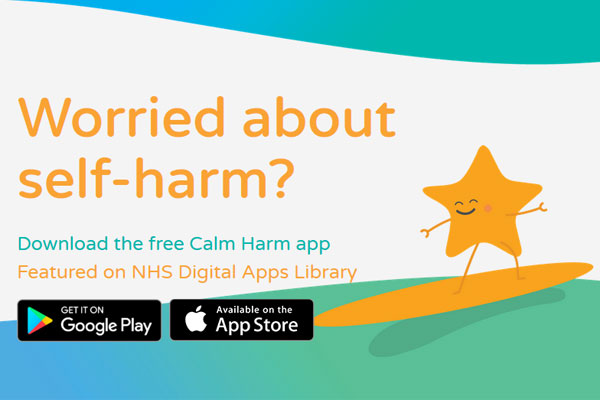 Calm Harm is a free app that helps you resist or manage the urge to self harm. You can add your own tasks and the app is private and password-protected. https://calmharm.co.uk
---
MindShift™ App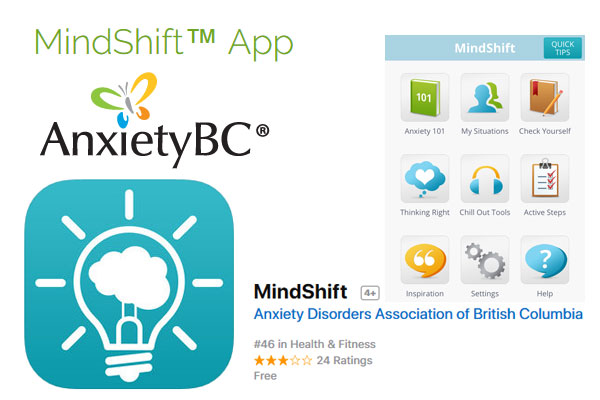 Struggling with anxiety? Tired of missing out? There are things you can do to stop anxiety and fear from controlling your life. https://www.anxietybc.com/resources/mindshift-app
---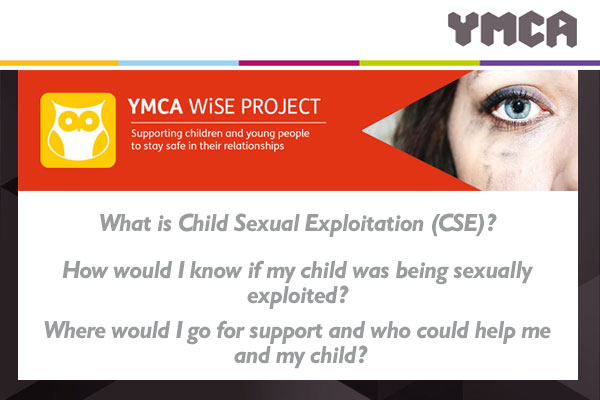 Useful Resources
Copes
Supports around 130 children and their families on an individual basis at any one time, receiving referrals from social workers, school staff, Child and Adolescent Mental Health Service (CAMHS), doctors surgeries, and parents themselves. In addition, we run parenting groups to offer new ways of doing things and get the best from children, which provide very supportive networks for parents.
Contact: Nicola Dudley, COPES Coordinator, Action in rural Sussex, Wessex House, 212 High Street, Lewes BN7 2NH Tel: (01273) 407336 - nicota.dudley@ruraisussex.org.uk
Parentlink
Helpline open Monday to Thursday 8.30am to 5pm. Fridays 8.30am to 4.30pm. Please leave message at other times. If you cannot call our helpline, ask someone to call for you. We may be able to visit you at home or arrange an interpreter.
Phone: 0345 60 80 192 or text 07797 870317 - www.parentlinksussex.org.uk
Travellers and English as an Additional Language Service
Offer advice, training amd support
Phone: 01323 464 210 - EAL Team
Phone: 01323 464 215 - Traveller Education Team
Under 19 Substance Misuse Service
Service for anyone under 19, or parents/carers who are concerned about their child's drug/alcohol use.
Phone: 01323 841470 for an appointment.
Information shop @ The Joff: 01273 583354
For advice and support with drug and alcohol issues please call or email us. You will be asked for a contact number and someone will call you back the same day.
Ground Floor,
St Mark's House, Hawks Road,
14 Upperton Road,
Eastbourne,
East Sussex BN21 1EP
Phone: 1323 464404
Further information
Woman's Refuge Project Outreach Service
Advice, support and information for women experiencing domestic violence.
Phone: 01273 622822brighton.refuge@womensrefuge.org.uk
RISE
Is a charity which supports women, children and young people affected by domestic abuse in Brighton & Hove and across West Sussex.
Phone: 01273 622 822
National 24 hour Domestic Violence Helpline: 0808 2000 247
http://www.riseuk.org.uk/
CRUSE
We have a support centre located in Eastbourne and another in the city of Brighton and Hove. Contact us at eastsussex@cruse.org.uk Brighton and Hove
01273 234007
Support anywhere else in East Sussex: 01323 642942
Address: Eastbourne, BN21 3QY
Care for the Carers
Is an independent charity which supports unpaid carers in East Sussex who look after a relative, friend or neighbour who is frail, disabled, and/or has a long term illness.
www.cftc.org.uk - 01323 738390 - info@cftc.org.uk
Claude Nicol Centre
Drop-In clinic Thursday 3.30-5.30pm.
Phone 01273 664721 for appointment.
Haven Lounge
Peacehaven Youth Centre, The Joff. Health Drop-in. Fridays 4-7pm and Wednesdays 7-9pm.
Newhaven Youth Drop In
Community Centre, Denton Island, Newhaven. Wednesday & Thursday 4.30-6.30pm.
Contact Kay 01273 517250 - kayw@ncda.org.uk
Summerhayes Centre
Marshall Lane, Newhaven. Open 9.30 to 5pm Monday to Thursday & 9.30 to 12.30 on Friday.
01273 612360 - info@summerhayes.org.uk
Peacehaven Clinic
Monday evening 5-7.30pm (drop-in 5-5.30pm).
01323 416100 for appointments.
Meridian Surgery
Clinics on Tuesday, Wednesday and Friday all day, by appointment but drop-in's will be seen for sexual health matters.
01273 588200
National Agencies
Family Lives
Family Lives is a national charity providing help and support in all aspects of family life.
Free Parent line: 0808 800 2222
www.familylives.org.uk
Children's Legal Centre
Free legal advice on all aspects of the law affecting children and young people.
General enquiries: 01206 714650
www.childrenslegalcentre.com
Bullying UK
Advice and information relating to bullying.
www.bullying.co.uk
Alcohol and Drugs
FRANK
Confidential Information and advice regarding drug and alcohol abuse.
0300 123 6600
www.talktofrank.com
Internet Safety
Think U Know
Website run by The Child Exploitation and Protection Centre (CEOP) Information and advice for parents. Internet abuse or concerns can be reported here. Always call 999 if you think someone is in danger.
www.thinkuknow.co.uk/parents
Domestic Abuse
Refuge
Offers a range of services which gives women and children access to professional support in relation to domestic violence regardless of their situation.
0808 2000 247 (24hr helpline) - www.refuge.org.uk
Men's Advice Line
Is a confidential helpline for all men experiencing domestic violence by a current or ex-partner. This includes all men - in heterosexual or same-sex prelationships. Their focus is to increase the safety of men experiencing domestic violence (and the safety of their children) and reduce the risk.
www.rnensadviceline.org.uk - 0808 801 0327 - info@mensadviceline.org.uk