History
Curriculum Intent
At Peacehaven Community School, our history curriculum is meticulously crafted to align with our vision of providing outstanding education by preparing students for a future in an ever-evolving world, through the study of the past. We instil in our students an insatiable curiosity about the past, enabling them to form well-informed opinions on contemporary events and participate actively in democratic society.
Our curriculum embraces a global perspective, ensuring that our students appreciate diverse cultures and historical narratives. By delving into British and local history, as well as crucial themes such as religion, democracy, and conflict, our students emerge with a comprehensive understanding of the world around them. These powerful insights empower them to make meaningful connections and challenge preconceived notions.
We champion inclusivity, resilience, and community partnership, fostering an environment where every student is encouraged to aspire and contribute. Our history curriculum encourages students to develop critical thinking and evidence-based judgement, equipping them with the necessary skills to excel academically and become compassionate, responsible global citizens.
Our history curriculum is a testament to our unwavering commitment to excellence, providing students with a robust foundation to achieve their full potential. We are confident that our history students will emerge as curious, well-informed, and passionate individuals, ready to contribute positively to the world around them and make their mark on history.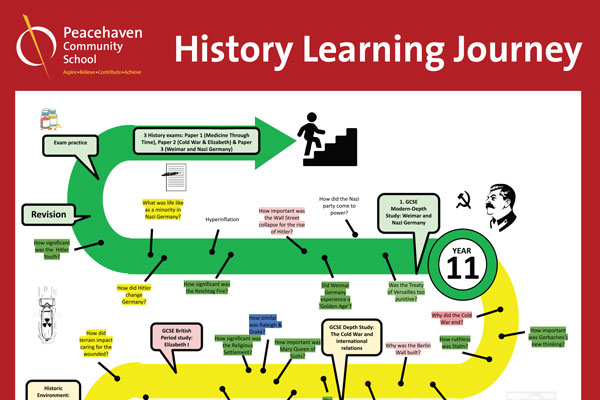 Lucy Olding - Head of History - lucy.olding@swale.at
KS3
KS3 is where we ignite curiosity and teach a subject-rich, diverse and thought-provoking History curriculum. Our learning journey will explore a range of world history, ranging from the Romans to the 21st century war on terror.
We will be using sources, evidence and interpretations to gain an understanding of the past and also evaluate how history has been shaped and communicated to us. Students will gain a chronological understanding of British History in Year 7, and then will explore the wider world in Year 8 and 9.
Year 7
In terms 1&2 students will find out what happened to a pair of skeletons found at Maiden Castle, and whether the Romans & Vikings were civilised, and the Norman Conquest in 1066.
In terms 3&4 students will study a thematic unit on Power and how it has changed over time.
In terms 5&6 students will study the most significant individuals of the Industrial Revolution and how migration has impacted Britain.
Medium Term Plans
Term 3
Power
Year 8
In terms 1&2 students will study the Trans-Atlantic Slave Trade and whether the British Empire should be remembered as a source of pride or shame.
In terms 3&4 students will study how conflict has changed over time, starting from the Crimean War leading up to the Iraq War in 2003. After the thematic unit, students will then learn a depth study about the war in Vietnam, and how it fits into the wider remit of the Cold War.
In terms 5&6 students will learn about the US Civil Rights Movement & Race Relations in the USA.
Medium Term Plans
Term 3
Conflict Through Time
Term 4
Vietnam War
Year 9
In terms 1&2 students will study the Russian Revolution and whether the US was the land of the free in the roaring 1920s. They will learn about the development of communism & capitalism, and the emergence of dictatorships and democracies.
In terms 3&4 students will study the Holocaust, and will then learn about the changing role of women throughout history in terms 5&6.
Medium Term Plans
Term 3
The Holocaust
Term 4
How have women's experiences changed over history?
KS4
Pupils will have 3 lessons per week and will study the Edexcel exam board. The topics they will study include: Early Elizabethan England, Superpower Relations & the Cold War, Weimar & Nazi Germany, and Medicine Through Time.
Homework
Pupils in KS3 will be given a Google Classroom assignment every 2 weeks, and will focus on reading comprehension. Pupils will be provided with challenging texts and will be required to complete a Google form quiz.
In KS4, homework will be set more regularly through SENECA and exam practice.
Those who do not remember the past are condemned to repeat it
GEORGE SANTAYANA