English
Curriculum Intent
At Peacehaven Community School, our English curriculum is meticulously designed to deliver an exceptional education that fosters both cognitive and social-emotional growth. Our comprehensive curriculum equips students with outstanding communication skills, promoting creativity and critical thinking through the exploration of language and literature.
With steadfast dedication to our students, we aim to cultivate not only academic excellence, but also responsible, compassionate, and culturally conscious global citizens. We champion the transformative potential of language, empowering students to eloquently convey their ideas and feelings in both written and verbal forms.
Our curriculum emphasises the development of robust oral and written communication abilities, enabling students to express themselves confidently in diverse settings. We strongly advocate for reading as a cornerstone of success, nurturing a lifelong passion for literature and enriching students' lives with its cognitive and emotional rewards. By delving into a wide array of literary works, our students gain profound insights into the human experience and their role in the world, while expanding their cultural perspectives. This holistic approach to our English curriculum allows students to develop empathy, cultural capital, and a sense of belonging.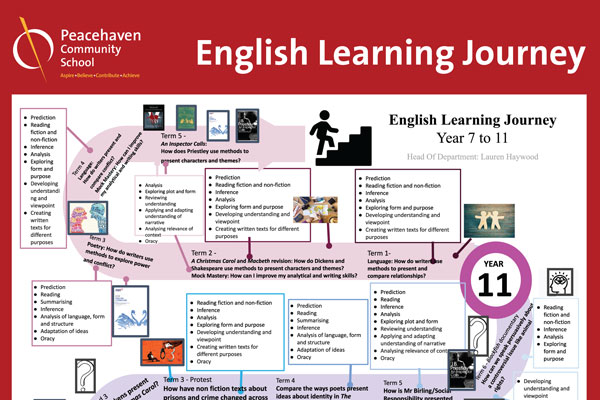 Lauren Haywood - Head of English - lauren.haywood@swale.at
KS3
We are a research-led department and we use the 'Faster Read' approach to the design of our KS3 curriculum to study a range of literature texts that we believe engage and enrich our students.
We regularly evaluate and update our curriculum to ensure that students are reading texts by a variety of authors that increase vocabulary and cultural capital by helping them to learn about the experiences of others, for example, through studying texts about other cultures, refugees and children with special needs.
We are ambitious for our students and seek to broaden their horizons.
Medium Term Plans
KS4
Our KS4 curriculum follows the AQA syllabus. We teach the English Literature texts in Year 10 which are interleaved in Y11. We teach English Language through literature as well as standalone units focusing on exam skills.
Across both key stages, all of our units of work have been designed to include: reading fiction, reading non-fiction, different styles of writing, challenging vocabulary and opportunities for developing oracy skills.
We teach English as one subject, alternating between a Literature and Language focus. Students build their skills and knowledge through each scheme; they are assessed throughout the term formatively and work towards a half termly end of SOW assessment.
Students are regularly given opportunities to reflect on their progress and respond to feedback to improve their work.
Medium Term Plans
Assessment
The AQA course is examined through 100% final exam, as stipulated by Government reforms to qualifications. Students are assessed throughout their course through formative and summative assessment in class, as well as through formal mock examination.
Homework
KS3 students are set half an hour of 'Bedrock', an online learning platform which develops students' vocabulary and strengthens their reading skills.
KS4 students are set an hour of homework each week on Seneca, an online learning platform that develops and tests their knowledge and skills through retrieval practice.
Stories are equipment for living
KENNETH BURKE