Career Support
Our careers provision at Peacehaven Community School plays an important role in preparing our students for their future in a changing world. We believe in setting high expectations for all students and supporting them to achieve their full potential. Our careers education, information, advice and guidance (CEIAG) programme provides impartial support to students, enabling them to become independent managers of their own careers.
We provide information on a wide range of education and training options, including technical education qualifications and apprenticeships, to help our students make informed decisions about their future. Through our CEIAG programme, we also encourage our students to engage with local employers and community partners, broadening their horizons and developing a sense of social responsibility.
All pupils in years 7-11 are entitled to:
  • Find out about technical education qualifications and apprenticeship opportunities as part of a careers programme that provides information on the full range of education and training options available at each transition point.
  • Hear from a range of local providers about the opportunities they offer, including technical education and apprenticeships, through options events, assemblies, group discussions, and taster events.
  • Understand how to make applications for the full range of academic and technical courses.
The named careers lead for the school is Josie Turner:
josie.turner@swale.at - 01273 581100
The Careers policy is available here.
Students will receive careers guidance in Personal Development lessons but may also ask for further guidance through the library, mentor or Head of Year.
Parents wishing to have more information should contact:
Ms Newman, Careers Advisor - jemma.newman@swale.at

We invite any organisation wishing to present to our students regarding careers and education to contact: pcs-careers@swale.at
We regularly review our careers provision and impact, and keep a range of internal tracking including:
• Student Voice
• Student feedback on their experience of the careers programme and what they gained from it
• An annual careers survey to all staff
• Staff feedback on careers lessons, mock interviews etc
• Gathering informal feedback from external partners and from parents
• Quality assurance of careers lesson
• Student destination figures post-16
Careers provision will be reviewed annually in January each year.
---
Post-16 Options
Future Aspirations and Careers Newsletter 22-23 - Edition 3
Future Aspirations and Careers Newsletter 22-23 - Edition 2
Future Aspirations and Careers Newsletter 22-23 - Edition 1
---
Careers and College Transition at PCS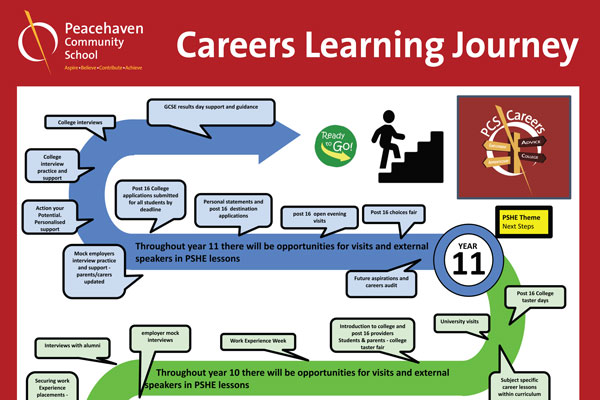 ---