Design Technology
Phillip Cornish - Head of Design Technology - phillip.cornish@swale.at
Design creates culture. Culture shapes values.
Values determine the future
Robert L. Peters
Subject Overview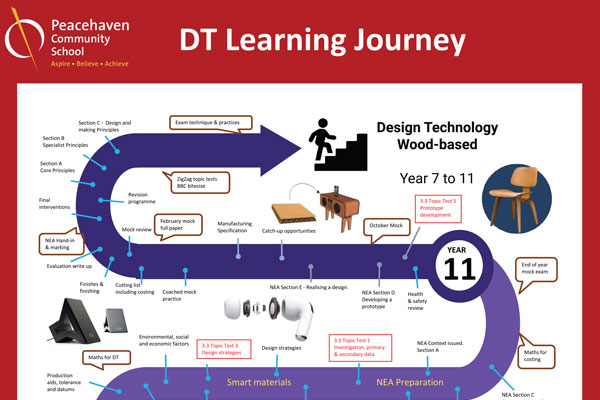 Our aim in Design Technology is to develop students who can be creative thinkers, who can make decisions, make mistakes, learn from the consequences and enjoy this process. They will learn to consider the impacts of their designs on society and the environment, now and in the future. We hope that students will gain qualifications that will give access to different creative and practical career pathways. Students will be given opportunities which allow greater independence, challenge and interest. Afterschool clinics offer students face-to-face quality time with teachers to extend and support the more challenging projects.
In Design Technology pupils combine practical and technological skills with creative thinking to design and make products and systems that meet human needs. They learn to use current technologies and consider the impact of future technological developments. They learn to think creatively and intervene to improve the quality of life, solving problems as individuals and members of a team. Working in stimulating contexts that provide a range of opportunities and draw on the local ethos, community and wider world, pupils identify needs and opportunities. They respond with ideas, products and systems, challenging expectations where appropriate. They combine practical and intellectual skills with an understanding of aesthetic, technical, cultural, health, social, emotional, economic, industrial and environmental issues. As they do so, they evaluate present and past design and technology, and its uses and effects. Through design and technology pupils develop confidence in using practical skills and become discriminating users of products. They apply their creative thinking and learn to innovate.
KS3
1 double lesson a week for 20 weeks or 1 double lesson a fortnight for 40 weeks
Year 7
Projects
Nature key-fob
Tea-light holder with sheet aluminium
Mechanisms
Fabric monster
Bauhaus photo frame
Year 8
Projects
Sustainable BUG BOX
Electronic CAM cut trophy
Structures
Pewter casting
Design era textiles pouch
Year 9
Projects
Passive amplifier
Articulated plywood LED cluster lamp
STEMBOT
Laminating design
KS4
3 lessons per week.
AQA Design & Technology with a focus on wood-based materials.


https://www.aqa.org.uk/subjects/design-and-technology/gcse/design-and-technology-8552/specification-at-a-glance
Year 10
Sustainable & collaborative design
Manufacturing processes
Anthropometrics & ergonomics
Practice for N.E.A. Personal hygiene
Non-exam assessment sections A&B
Topic learning & tests
Year 11
Non-exam assessment sections C to F
Exam revision and practice
Homework
Homework is set in KS4 to develop understanding and support classwork.
Revision for topic tests
Design work for projects
Research for NEA sections A&B