Art
Sarah Elliott - Head of Art - sarah.elliott@swale.at
Art has the power to transform, to illuminate, to educate, inspire and motivate
Subject Overview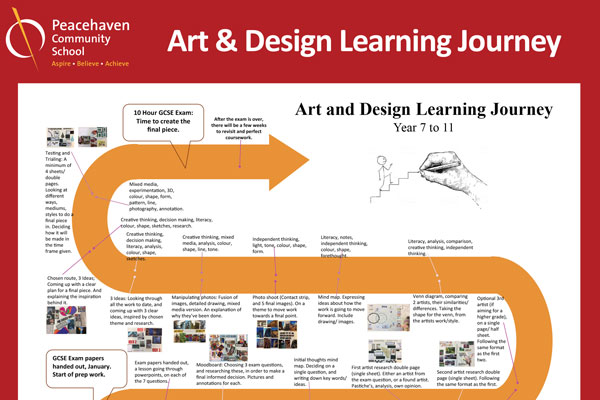 The Peacehaven Community school Art department sees art and design as an equalizer, helping create a common ground for children who don't know each other and who may or may not be interested in the same things. Art can help people of all ages, races, abilities, and even languages engage in a shared (and generally mutually loved) activity. Art is naturally linked to creativity, an attribute that is increasingly being touted as one of the most important factors for the success of individuals, organisations, and cultures.
It is proven that art encourages fine motor skills, neural development, and problem-solving abilities and that it can be used effectively to teach and understand other key subjects such as reading, writing, math, and science.Solutions to major problems and breakthroughs of all kinds are linked to creativity.
The PCS Art curriculum builds fine motor skills; gripping a paintbrush, drawing dots and lines, mixing colours, cutting with scissors, controlling a glue stick or squeezing a glue bottle, kneading and rolling clay, tearing paper—all of these tasks require increasing amounts of dexterity and coordination
"The truth is that art is vital, if somewhat intangible, and that if children engage in hands-on art activities, they learn much better in all disciplines". NSEAD 2020
Teaching and Learning
KS3
At KS3 all students will have 1 session a week of Art.By the end of KS3 all pupils who leave the course (whether continuing into further study at KS4 or not) will have a level of visual literacy to support them in understanding and engaging with the ever increasing visual communication of society. Students are taught early-on how to synthesise information and create personal and original outcomes, this is designed to support the whole school curriculum and encourage independent enquiry. Students will end KS3 with key skills in drawing, painting, design methodology, visual communication, creative and critical thinking and oracy. With these foundation skills, students could become lifelong learners and continue to develop at their own pace.
Year 7
In terms 1&2 students will have a baseline assessment to ascertain prior knowledge and learning from KS1 and 2. Students will be taught how to evaluate, analyse and respond to the work of Frida Kahlo.
In terms 3&4 students will study the work of British artist Mark Hearld and explore a variety of techniques for recording line and mark making. We will use British wildlife as our starting point to work in pen, pencil, paint and stencilling.
In terms 5&6 students will learn about colour theory and its practical and psychological applications in art, craft and design.
Year 8
In terms 1&2 students will explore art history through the use of an art timeline. They will present their key findings and make connections with key historical facts in order to gain a greater and deeper understanding of art and design.
In terms 3&4 students will Notan, Positive and negative space, tessellation and Pattern
In terms 5&6 students will explore Doodles, perspective and optical illusions.
Year 9
In terms 1 students will have explored the purpose of Art and Design in their everyday lives. Discussions around art, aesthetics and links to all other subjects will be elicited.
Term 2 and 3 students will be exploring the work of 15th century artist Hieronymous Bosch and his fantastic creatures from "The Garden of Earthly Delights"
In terms 4 &5 students will be looking into the theme of "Architecture" and responding in a range of media and techniques.
In terms 6 students will be exploring Portraiture.
Throughout all units there will be aspects of Photography introduced in preparation for KS4.
Year 10
In terms 1&2 students will start with a small satellite unit bespoke to each cohort. We will cover key skills and techniques for researching and analysing as well as recording ideas that cover the vital assessment Objectives in both Photography and Art and Design.
In terms 3&4 students will start their first unit of work that will make up 50% of their final portfolio.
In terms 5&6 students will start their controlled assessment on a given theme.
Year 11
In terms 1&2 students will continue with their controlled assessment started at the end of year 10. They will spend until October completing research and analysis for Assessment Objectives 3 and 4. In October students will sit a ten-hour exam producing a planned final piece.
In terms 3&4 students will sit their externally set exam and prepare their outcomes across a number of weeks
In term 5 students will present and select a final portfolio.
Homework
At Key stage 3 students will be set one to two tasks per unit of work. These are planned in advance and support the learning taking place in class. Tasks are expected to take between 1 and two hours depending on the time given to complete them. The maximum time to complete and gather information will be four weeks.
At Key Stage 4 students will have an average of 1 hours homework per week. This may be divided into two hours on a task over two weeks etc.